Course :
Let me Draw what I mean!
Group Sessions
We co-designed workshops with creative and participative processes. Our experiential sessions create a sense of empowerment and a call for action.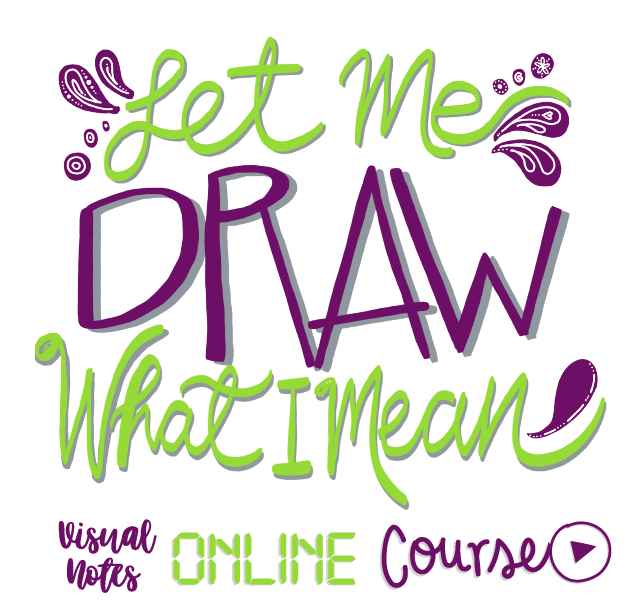 This online course consists of a total of 7 group sessions, 3 pre-recorded to do at your own pace and 4 live sessions of 1.5hrs once a week.
The overall of this online course is 65% learning about tips and tricks, and 35% hands-on activities (even though the practice part could be as much as you want)!
Each session has some theory and some hands-on activities to practice what we are learning. At the end of each session, you will get a small workbook with exercises to practice your new skills.
Through this course, you will:
Awaken your creative self
Impress your clients by pitching your ideas in a visual way
Explore your creative potential and get concrete tips to keep doing it
Try different ways to create content and present ideas or projects
Explore and engage with different digital tools that you can later use during presentations or meetings to engage participants
Develop your visual thinking and strengthen your visual messages by exploring color theory and its application
Get away from the linear way of thinking and taking notes
Express your ideas in a visual way so they resonate with more and create a lasting impact
Learn how to turn ideas into visual stories by using powerful metaphors
Create templates to use for future meetings, projects, or presentations
Get practice booklets and concrete examples on how to use these new tools in your day-to-day
Create your own visual CV and stand-out from others applying for the same job
Improve your productivity and attention by taking visual notes, so at the end of the day, you have more time to spend with those that matter the most
Map out your process to achieve your goals
What do you need to start?
All you need are paper and pens or markers (ideally of different colors). We will talk about possibilities to do digital visual notes as well.
During the course, I use different apps and softwares to give you ideas about what there is out there and we will cover pros and cons about each of these options. You DO NOT need to buy any of these softwares, but if you decide to do so, I will be happy to give you tips about how to use any of them.
Also, there are no technical requirement for this course. If you already own a tablet, you are free to do your exercises on it and ask any questions on it and ask any questions that come up during your practice.
What options do we offer?
This online course consists of a total of 3 sessions,  pre-recorded to do at your own pace. 
This online course consists of a total of 4 sessions,  pre-recorded to do at your own pace.
This online course consists of a total of 7 sessions,  pre-recorded to do at your own pace.
Session 1, 2, 3, 4, 5, 6 & 7
Only for $447.00 US (SAVE over $100!)
This online course consists of a total of 7 sessions, pre-recorded to do at your own pace.
Remember that you will receive the opportunity to have a free 1-on-1 session (45mins) that you can use at any point throughout this course to dive deeper into any topic or cover something of your own interest.
Session 1, 2, 3, 4, 5, 6 & 7 
Free 1-on-1 session (45mins)
Only for $497.00 US (SAVE over $250!)
 Session 1: Why should we use visuals? 
We will start with a bit of theory about visual thinking and visual notes, and I will cover some of the reasons why visual notes and visual thinking is so important nowadays.
Some of the main points we will cover are:
Benefits and advantages of visual note taking

Ways to unlock your creativity

Main components of a visual story

Practice bases of Visual notes – How to draw a person
 Session 2: The basics of visual notes, lettering, arrows, and banners
In our second session we dive into our new visual practice! Hands-on experience on different doodling tips and activities. We will go into layouts and how to better structure visual notes.
 Session 3: Body and facial expressions & colors 
There are many ways to accentuate your message! In this session we will talk about how to use the following to make sure your visuals speak loud and clear!
Colors, 

Fonts, & 

Body and facial expressions
 Session 4: Layout, mind maps
We will explore different ways to use visuals to engage people during meetings, and go trough the process of taking visual notes together. Some of the specific topics covered during this class are:
1) Structure
2) What do I look for when taking visual notes
3) What can you prepare ahead of time
4) How to better use layers and folders
5) How to structure your visual story
 Session 5: Paper vs. Digital notes 
Despite the move towards digital meetings, we still have several options when it comes to visual notes format. This session will help you make an informed decision about which format fits best your project. In this session I will share with you my reasoning when I have to make a decision of which format to work with.
We will cover the pros and cons of recording in: 
A big poster,

Digital, or 

A foam board tower.
 Session 6: Visual metaphors & how to use visual notes for meetings and presentations
Theory in practice! This session is one of my favorites! We get to do live visual notes together and I get to share my mental process of taking notes right there with you. We practice together and you get to ask any questions about this exercise and the practice exercises you have been doing at home. This is a session where we get to challenge some of those limiting beliefs that we are not good enough to draw, by drawing LIVE!       
 Session 7: Drawing your visual story 
During this session we will walk through some of the most powerful ways to translate ideas into metaphors that speak louder than How to design and use templates & other resources.
How do we prepare a visual pitch?
1-Audience
2-What do they care about?
3-What do they already know?
4-What do I want to leave them with?
Do you still have questions?